Snowmobile Trail Reports 2018-19 Archives
An updated report this Thursday morning from Forestry regarding trails that are open today:
Mercer area: Trail 17 from Hwy 51 (Lazy Aces) north to Hurley.
Trail 8 from Cty G to West Branch Rd
Trail 13 to Island Lake Rd
Trail 15 Hogsback to Island Lake Rd
The remaining trails are closed due to low snow and/or wet conditions. The Snowmobile Clubs will be assessing trail conditions on a daily basis and will open them on a trail by trail basis notifying the Forestry Department and Chambers of Commerce of the changes. Early riding conditions exist and water crossings are not considered safe. Please use caution!!
Trail Report
December 5, 2018
Condition: Early Season
**NEWS ALERT** Iron County Snowmobile Trails will open Thursday December 6th. Please expect early season riding. You will encounter some wet areas, some areas with thin snow, and not all trails have been groomed. At this time Wednesday afternoon, the only trail we have groomed is Trail 17 (the grade) from Lazy Ace heading north, this trail is fair to good with a nice base. Trail 182 will remain closed for this weekend. The gate at Hwy 51 past Lazy Ace. will remain closed until Vilas County opens their trails. Also, Trail 8A is not passable and will remain closed until we can complete a snow bridge. At this time the lakes are not marked and ice conditions vary this time of year, please use extreme caution. As we continue to groom more trails we will keep everyone updated. Let's Ride! The Great Northern will run a Snowmobile Special for this weekend and next weekend, all rooms will be $89, just mention "Early Riding" at the time of booking.
Book Online, Check Availability!
80 Rooms Available, Complimentary Breakfast. Starting at $79/night
Book Your Stay Today!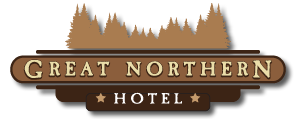 5070 N Hwy 51
Mercer, WI 54547

Reservations: 715-476-2440 
info@GreatNorthernMercer.com
Testimonials
"Wedding Fun in the Northwoods"
Loved the Great Northerner. My cousin got married in the back and the staff was awesome and making the stay personal. Bar was a lot of fun and breakfast did the trick. Would recommend 2nd floor for vehicle noise.
We had to stay here due to sell outs further north but were not disappointed. The rooms were big and clean. The hotel has a beautiful sitting area with Wi fi. Our room was not updated but it appears that they are in the process of doing so. The hotel is right on the ATV/Snowmobile Trail.
"A Very Nice Stay"
Good price, very large, nice room. I would stay here again. The area has lots to see and do. This facility has everything needed for large or small groups. The staff was friendly and professional. We enjoyed our stay and have nothing bad to say about this place. I recommend it.