Snowmobile Trail Reports 2015-16 Archives
Trail Conditions: Good
What a week in the Northwoods, started off on Wednesday with about 3 inches of snow, then continued into Thursday with 6 inches (some areas saw 4-10″), but we followed that up on Saturday with a high of 41 degrees. Lots of traffic in the area as the lodging establishments were all sold out again. Despite the traffic and warm temps the trails survived. We rode yesterday and spoke to a group that rode today, some thin areas and a few bare spots in town or along the highway, but overall the base is still there and everything has been groomed and flattened. Expecting snow Tuesday and Wednesday, then colder temps…bring on another good weekend of riding Up North! At the hotel we still have a few rooms open for the weekend and Saturday night the Wolf's Den welcomes back the Allen Brothers who are sure to put on a good show for us! Don't froget Sunday is the SUPER BOWL, we will have food specials and a FREE Buffet for all who join us; 6 TVs with the game on.
Book Online, Check Availability!
80 Rooms Available, Complimentary Breakfast. Starting at $79/night
Book Your Stay Today!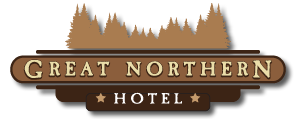 5070 N Hwy 51
Mercer, WI 54547

Reservations: 715-476-2440 
info@GreatNorthernMercer.com
Testimonials
"Wedding Fun in the Northwoods"
Loved the Great Northerner. My cousin got married in the back and the staff was awesome and making the stay personal. Bar was a lot of fun and breakfast did the trick. Would recommend 2nd floor for vehicle noise.
We had to stay here due to sell outs further north but were not disappointed. The rooms were big and clean. The hotel has a beautiful sitting area with Wi fi. Our room was not updated but it appears that they are in the process of doing so. The hotel is right on the ATV/Snowmobile Trail.
"A Very Nice Stay"
Good price, very large, nice room. I would stay here again. The area has lots to see and do. This facility has everything needed for large or small groups. The staff was friendly and professional. We enjoyed our stay and have nothing bad to say about this place. I recommend it.