Snowmobile Trail Reports 2014-15 Archives
Trail Conditions: Early Season
A big thank you to the Snow Goers who have worked for over a month to have these trails ready to open. Iron County also deserves a lot of credit for letting us take advantage of the early snow conditions. At this time Iron County Wisconsin and Michigan are the only two trail systems open in the area. We were able to get out on Monday and do some riding. Overall the trails are in early season conditions and not all trails are open, but you can certainly get around and we talked to several groups who went from the Great Northern Motel up to Michigan and back without any issues. Check out our live trail coverage from earlier today.
Trail Conditions: CLOSED
Over 17″ of fresh snow on the ground in the last week. Mercer Groomers were out last night smoothing the trails and breaking up where they can to get everything frozen in time for an early start to the season. Temperatures in the forecast are staying cold and from what we see this snow is going to be here for the long-haul. Iron County says no trails will open before December 1st and as of now Vilas Count is saying December 10th. If any of this information changes we will be sure to let you know. The issues with opening early are easements with land owners and hunting seasons. Winter is here and it is only a matter of time till we can start logging some miles. Reserve your club trips now at the Great Northern as our weekends are filling up fast.
Book Online, Check Availability!
80 Rooms Available, Complimentary Breakfast. Starting at $79/night
Book Your Stay Today!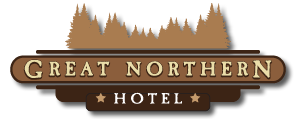 5070 N Hwy 51
Mercer, WI 54547

Reservations: 715-476-2440 
info@GreatNorthernMercer.com
Testimonials
"Wedding Fun in the Northwoods"
Loved the Great Northerner. My cousin got married in the back and the staff was awesome and making the stay personal. Bar was a lot of fun and breakfast did the trick. Would recommend 2nd floor for vehicle noise.
We had to stay here due to sell outs further north but were not disappointed. The rooms were big and clean. The hotel has a beautiful sitting area with Wi fi. Our room was not updated but it appears that they are in the process of doing so. The hotel is right on the ATV/Snowmobile Trail.
"A Very Nice Stay"
Good price, very large, nice room. I would stay here again. The area has lots to see and do. This facility has everything needed for large or small groups. The staff was friendly and professional. We enjoyed our stay and have nothing bad to say about this place. I recommend it.