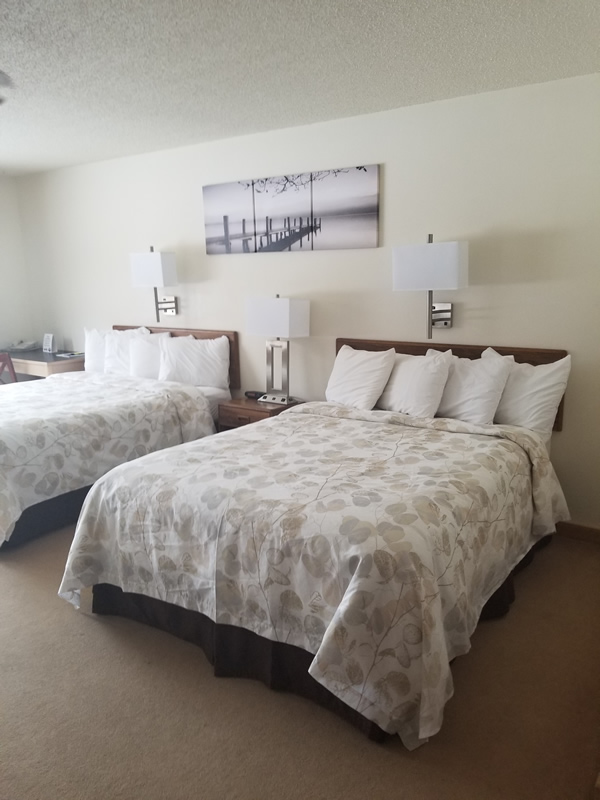 Upgraded Rooms
We have updated the lower level lakeside rooms to include new bedding, lighting, hair dryers, wall mounted flat screen TVs, artwork, and more.
Summer Getaway
The Great Northern Hotel is a great place to escape to, San Domingo provides a relaxing atmosphere whether you are sitting on the pier listening to the loons, drifting in our paddle boats, or fishing from a boat.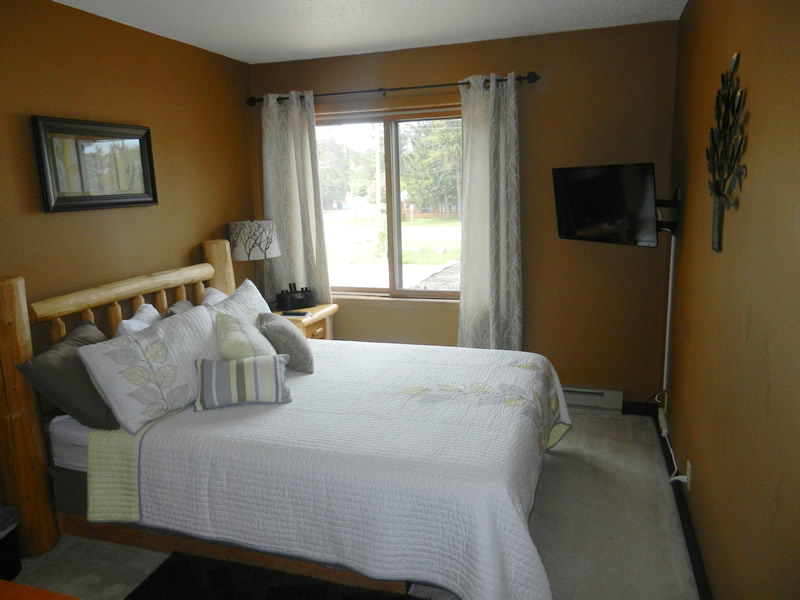 Deluxe Suite
Our newly remodeled Deluxe Suite includes a separate living room, bathroom, closet/dressing room and whirlpool tub. It is very roomy and can accommodate all your vacation gear.
Weddings
Reception, Ceremony, Catering, all on site overlooking our secluded lake. Very competitive rates with 80 rooms for your guests. We strive to make your special day Memorable. Shuttle bus available for Off-Site Ceremonies.
Book Online, Check Availability!
80 Rooms Available, Complimentary Breakfast. Starting at $79/night
Latest Snowmobile Trail Report
Trail Report
January 15, 2019
Conditions Fair to Good
First as a reminder to everyone this Saturday is our Snowmobile Club's Winter Blast at the Groomer Barn.
Pig Roast, Pancake Breakfast, Vintage Show, Kids Games, Live Music, Winter Blast Poker Run, Food-Beer-Soda-Coffee-Raffles and Free Admission! Stop in for a day full of fun!
As for the trails we saw another weekend with a lot of traffic. The club has been slow to get all the trails groomed because we have some down machinery, but we do continue to run around the clock to get everything put back together. We expect by Thursday all trails will be back to their Good Condition. This weekend is bringing cold weather and a lot more traffic. We expect the trails to hold up nicely but as the trails get rode watch out for icey corners. As for the Great Northern this weekend we have Dave Steffen Band on Friday night and Saturday night is DJ Justin Pitlik, all music starts at 9pm.
All trails listed below have been groomed with tractors and are fair to good condition:
Trail 17 N S
Trail 51 E to MW
Trail 19 to J from Lazy Ace
Trail 12 a b
Trail 10 to both sides of swamp
Trail 8 a to and from Bass Lake Rd
Trail 10 E and 8
Trail 19 and 20
Trail 19 North of Cedar Lake Rd is done logging but not being groomed yet
Trail 182 still needs some more work
14 and 9c are plowed and will not be groomed by us this year
Trail 12 not groomed due to open water
Winter 2018-2019 Live Music Schedule

Live music in the Wolf's Den featuring favorites like Kyle Mertz, Jagged Highway, Dave Steffen Band, Teds, Justin Rusell, Open Tab, David Walters, and DJ Justin Pitlik.
THE LOON CAPITAL OF THE USA
Share the Outdoors
May 17, 2016 by Forrest Fisher
No matter how far you have to drive or fly to reach Iron County in Wisconsin, the ride down Highway 51 will allow your mind to embrace nature.  You may also want to keep your camera shutter ready.
Northwoods Fishing Adventures
From the backwoods waters of the Turtle Flambeau Flowage or one of the other 214 lakes, you are sure to find a top notch fishing adventure.
We recommend: The Angler's Choice Guide Service
Book Your Stay Today!
5070 N Hwy 51
Mercer, WI 54547

Reservations: 715-476-2440 
info@GreatNorthernMercer.com
Testimonials
"Wedding Fun in the Northwoods"
Loved the Great Northerner. My cousin got married in the back and the staff was awesome and making the stay personal. Bar was a lot of fun and breakfast did the trick. Would recommend 2nd floor for vehicle noise.
We had to stay here due to sell outs further north but were not disappointed. The rooms were big and clean. The hotel has a beautiful sitting area with Wi fi. Our room was not updated but it appears that they are in the process of doing so. The hotel is right on the ATV/Snowmobile Trail.
"A Very Nice Stay"
Good price, very large, nice room. I would stay here again. The area has lots to see and do. This facility has everything needed for large or small groups. The staff was friendly and professional. We enjoyed our stay and have nothing bad to say about this place. I recommend it.